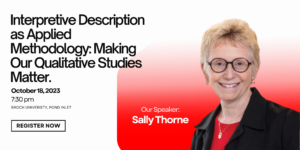 Dr. Thorne discusses developing Interpretive Description, crucial for qualitative health research.
Wednesday, October 18, 2023
In this talk, Dr. Thorne will talk about why an explicitly applied approach was needed by qualitative health disciplines researchers and how she went about the process of developing what has now become known as Interpretive Description. She will share her thoughts on the kinds of questions it can answer in our applied and practice disciplines and the design decisions within it that can lead to meaningful and useable findings. To illustrate, she will also share insights from her own current program of research in the field of Medical Assistance in Dying from the perspective of Canadian nurses and nurse practitioners.